Return to Headlines
Cassie Henry and Jenny Harvey
We would like to celebrate our Teacher of the Month for September and give a huge shout out to Cassie Henry and Jenny Harvey. Both ladies have jumped right in and took the lead for virtual teaching in 2nd grade. In fact...the students sometimes mistake them for sisters! Together each of them have over 20 plus years of experience teaching the littles. Each of them are wanting to continue their educational career with obtaining their Masters Degree at some point. As ther campus administrator, I can't say enough about how wonderful each of them are. My words to describe them, as well as their parents and students would be dedicated, warm and devoted to their passion in life which is teaching.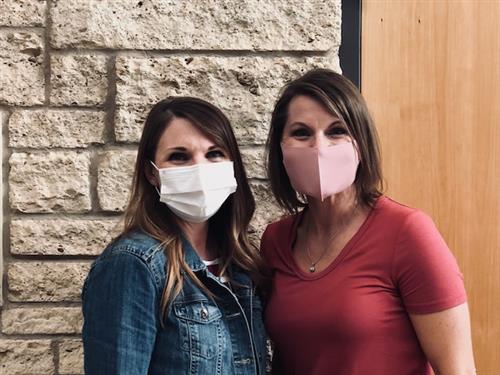 Laney Ortel
A huge shout out to Mrs. Laney Jones (Ortel) for being recognized as Teacher of the Month for October! Mrs. Jones...aka Mrs. Ortel, who got married this past summer during this crazy time was so excited to start this chapter in her life! Laney has done an amazing job this year with our new kinder babies. Her laughter and punky attitude is what her kids love best about her. Mrs. Jones is in her 2ns year of teaching kindergarten at Clinkscale. She is an Arkansas graduate and wears her college gear proudly.
Dr. Elizabeth Burleson
Elizabeth Burleson is our Teacher of the Month for November. Dr. Burleson has been with Clinkscale Elementary since we opened our doors in 2009. She started out as our Kindergarten teacher and has moved her way into teaching Special Education. Elizabeth is a true team player for our students, staff and community members...never says no to a challenge, or a new endeavor in her career. Dr. Burleson has one daughter who attends Steam Middle School and will be starting High School next year! Clinkscale Elementary is extremely lucky and blessed to have Dr. Burleson working with all our students ensrin everyone reaches their full potential!
Ashley McCampbell, Sarah Wyrick and Miranda Barnard - Teachers of the Month for December
Clinkscale Elementary is extremely lucky to have such an amazing Rotation Team! All three of them have their own unique talents that make rotation so much fun each and every day. Ms. McCampbell has been with us since opening our doors in 2009 teaching PE. From roller blading to archery, the students love attending PE daily...she keeps the students moving and ensuring their phyiscal needs are met! Ashley also teaches High School Tennis for BHS which keeps her busy daily! She loves it!
Mrs. Wyrick came to us from Midland, Texas...she loves teaching MUSIC! I truly believe she and her husband should start a band someday because of their love of singing and entertaining. She has two children who attend Clinkscale as well. Mrs. Wyrick ensures all our students have an understanding of musical instruments and carrying this over into Middle School. The students love it when the instruments come out for practice time including our famous ukuleles.
Mrs. Barnard has also been with us since 2009 starting off teaching 3rd grade and moving into our Art position. Miranda pulls out the most amazing ideas for students to show off their artistic talents. Our campus along with students and parents are amazed each year when she puts on our yearly Art Show! I don't know how she does it each year with the activities chosen to show off our student's art skills, but she does it and we love her for it. Miranda has two children that attend BISD and one about to start High School next year! We love Mrs. Barnard's creativity and uniqueness...she always surprises us with her talents!