Return to Headlines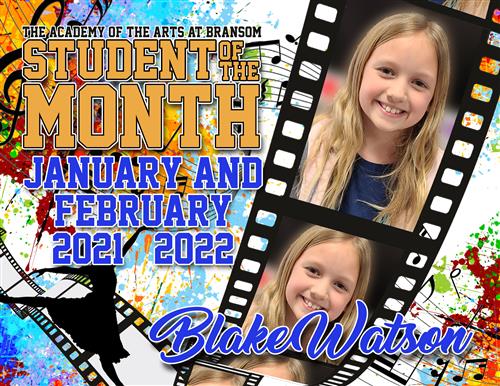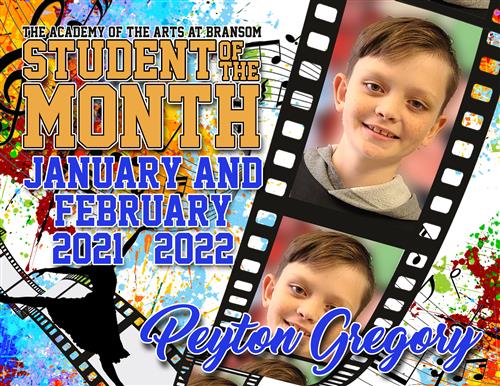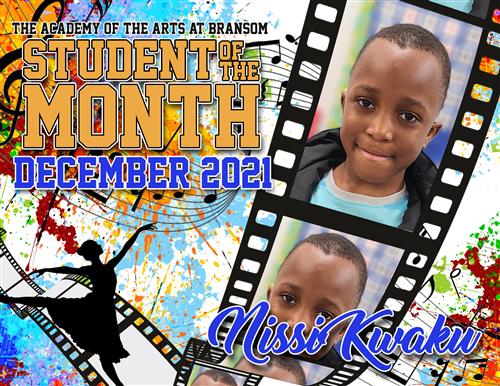 Nissi Kwaku is a 1st Gr. Bransom Bobcat. Nissi is also one of our 'December Students of the Month!'
Nissi is a hard-working student, but overall, the most caring friend in the room. He is kind, generous, and wants the best for all of his friends. I can count on Nissi to be a helper, complete his work diligently, and be a positive light in our classroom. I am thankful to know Nissi, as is anyone else in the world.
Mrs. Finnegan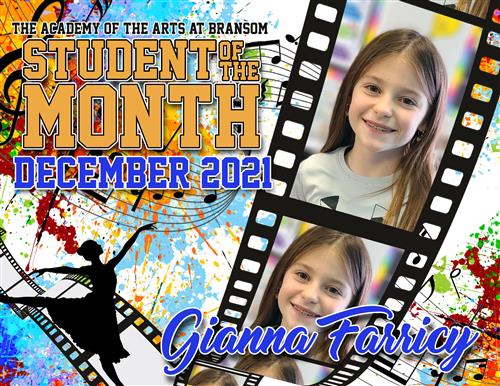 Gianna Farricy is a 4th Gr. Bobcat. She is also one of December's 'Students of the Month'.
Gianna is a wonderful student, and exemplifies what a leader is, and should be. She is consistently hardworking, kind, thoughtful, cheerful, and considerate of others. She is always willing to go the extra mile. Gianna gives her best effort in class on every task that she is given. She also asks questions and participates in class conversations. Gianna is always willing to help a friend. She loves to organize and helps consistently on our classroom organization crew. She checks on other students if they seem down or if they are struggling. Gianna is kind to everyone, including staff.
Mrs. Friend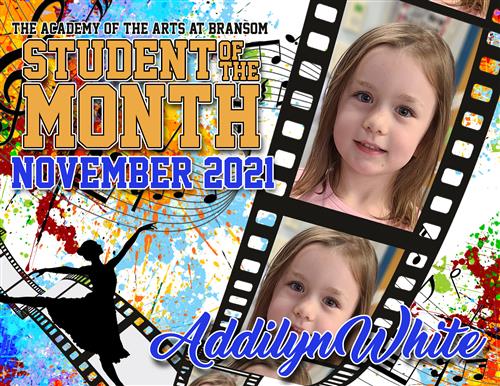 Addilyn White is a Kindergarten Bobcats. She has been selected as one of our 'November Students of the Month'!
Addilyn enjoys making new friends, reading and conducting science experiments (with adult supervision, of course).
Addilyn is a commendable student; she treats her classmates and teachers with respect by valuing each person individually and respecting their differences. She is a responsible student who embraces the dedication required to progress in her schoolwork and other personal goals. She always exhibits positivity and contributes to the success of the school by having an optimistic school attitude through her actions and words. Addilyn is thoughtful and communicates truthfully in a respectful way with her peers and teachers. She is always committed and strives for success in all she does. Addilyn works to her fullest potential and will achieve amazing things in her life.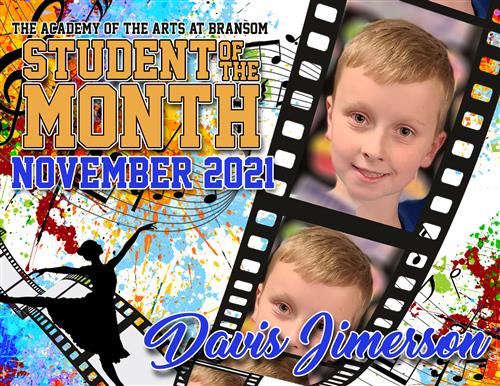 Davis Jimerson is a 3rd Grade Bobcat and has been selected as one of our 'November Students of the Month'!
Davis was selected for student of the month because he works hard, has a positive attitude, and he is kind to everyone. Davis is a great role model and leader to his peers.
He plays soccer, and likes to play with his friends, his dog and fidget toys. Davis enjoys going for walks around his neighborhood.
Mrs. Jones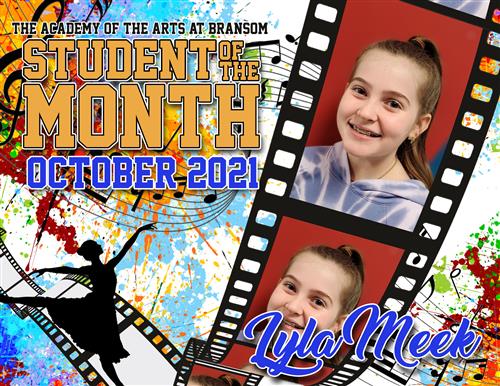 Lyla Meek is a 5th Gr. Bransom Bobcat. Lyla has been selected as one of our 'October Students of the Month'.
Lyla is involved in competitive dance and enjoys being creative and working on art projects for fun.
Lyla was selected as Student of the Month because she is a very responsible student who always works hard in class and shows respect to her peers. Lyla oozes kindness.
Ms. Possin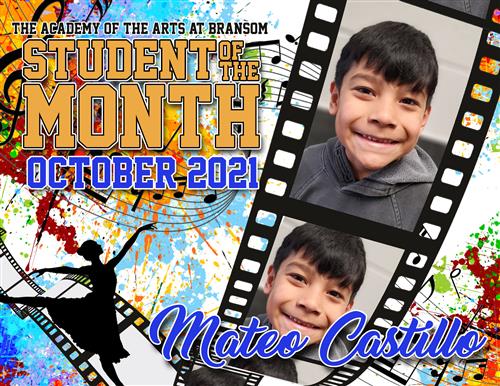 Mateo Castillo is a great 2nd grade Bobcat, and he was selected as one of our 'October Students of the Month'.
There are many great qualities about Mateo, but his kindness and hard work stand out. He is helpful without even being asked, always meeting the needs of those around him. Mateo is always ready to work hard to accomplish a task, even if it's challenging.
Mrs. Clements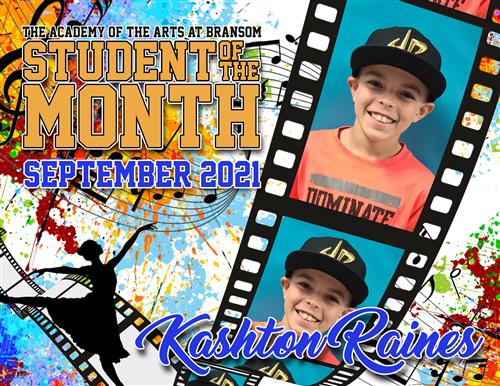 Kashton Raines is a 4th Gr Bransom Bobcat. Kashton is also one of our 'September Students of the Month'.
Kashton always takes the opportunity to be kind to his classmates and teacher. Whether they are struggling with something academic or just having a hard day, Kashton is always there to offer a helping hand and to encourage them. Kashton's positive attitude and sweet spirit help make our classroom a safe and uplifting place to learn and grow.
Mrs. Breaux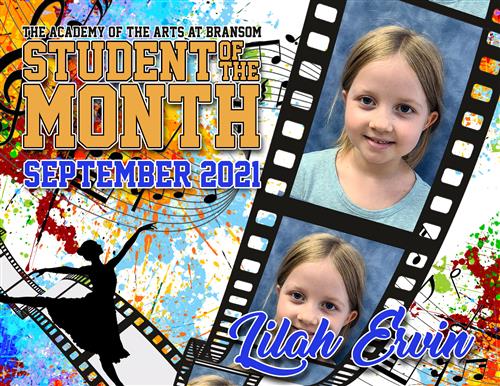 Lilah Ervin is a 1st Grade Bransom Bobcat, and one of our 'September 2021 Students of the Month'.
Lilah is a responsible and enthusiastic learner who tackles any new challenge with a positive attitude. She is an active participant in her classroom and has many insightful ideas to share with the class. Lilah is always willing to help a classmate and is respectful to peers and adults throughout school. She makes friends easily and always shows kindness.
Mrs. Stuckey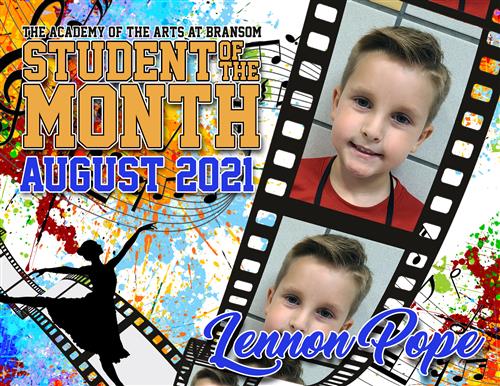 Lennon Popeis a Kindergarten Bobcat, and is one of our 'August 2021 Students of the Month'.
Lennon plays baseball and football! He loves going to church, swimming, playing at his neighborhood park, and going to the trampoline park! Lennon always has a smile on his face and is eager to learn. He sets a good example for his peers and he is always willing to help out a friend. Lennon shows kindness to everyone around him, and he has a heart of gold. He loves school and puts 100% effort in everything he does. I am so excited to nominate Lennon for the Student of the Month.
Emily Borchardt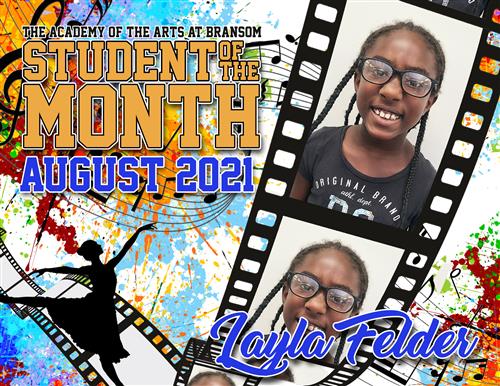 Layla Felder is one of our 'August 2021 Students of the Month'.
Layla enjoys playing softball. Layla always walks into class with a smile on her face, which brightens my day. She is such a caring and sweet young lady who is always looking out for others. She truly exemplifies excellence in the classroom both socially and academically. She is constantly putting forth her full effort into every lesson and assignment. I can depend on her to do the right thing, whether it's lending a helping hand or working hard to complete her work. Layla is a determined, respectful, responsible, accountable and funny young lady. With all of these attributes, she will go far in life. Layla is a wonderful role model both inside and outside the classroom: she truly makes a difference in everything she does.
Ms. Gilliland